Best Five Money Saving Tips for Online Shopping in India
Nowadays, no one is away from the growing influence of the world of Internet shopping. Every one of us is impressed by the ease of shopping online and getting the product delivered right at our home. We do not have to face the hassle of closed stores, unfriendly shopkeepers and non-availability of product in the local market. We can order almost everything online now using our credit cards, debit cards or cash on delivery for products. In India this trend is slowly picking up pace. Companies like Flipkart and Snapdeal have changed the Indian shopping landscape entirely. Most stores have extended their presence to internet and hence they provide great convenience to the consumers, while also making money for themselves by extending their sales beyond physical boundaries.
However, there are many chances that the product you purchased from your favourite online store is costlier than the price you could get if you purchased it from another online store or a conventional offline real store. Usually online stores also charge some shipping costs, which end up making the product purchase a non-profitable scenario for you.
In our previous articles, we talked about how to setup an ecommerce company in India and how an Indian startup is helping you shop better with personalization solutions, in this article we will discuss how you can save money shopping online with personalized coupons and some other smart methods.
1. Use coupons – Coupons are one of the easiest ways to save money. Most e-stores issue discount coupons for items. These coupons can provide you with free shipping and/or great discounts. These discount coupons are also easy to use and one just needs to enter the code while checkout. However, the hard part is finding these coupons. Nevertheless, there are many such websites in the market, which consolidate these coupons. Flipit is one such website, which I personally favour. Flipit is a multinational company and its major plus point is their wide range of coupons and the way users can personalize their member account through preferences. Once you select your favourite online store in the preferences, the portal will always show you the best and latest working coupons from that store. Becoming a member is free of cost and in return, you get access to the exclusive member-only coupon codes, which provide higher discounts. The portal currently offers around 1,100 live working coupons! What excites me about this company is their ambitious plan of developing a geo-based couponing App for Google Glass, and a postal service that delivers customized coupons to your door. They also have many exclusive deals with the Indian shopping websites. They have a clean layout, which does not contain popup ads. User interface and searching for coupons is very easy too.
2. Use debit card/credit card more often– Many online stores provide discounts to the credit/debit cardholders of certain banks. Now you do not necessarily have to have bank account in all the banks. If you have a bank account in major banks such as ICICI, SBI and Citibank then there are many chances to easily avail up to 20% exclusive discounts. Some credit/debit card schemes also give you great deals such as buy one pizza get another free, or buy one movie ticket, get another free. If you do not have a bank account yet, check which one provides better deals. If you already have a bank account then keep an eye on the stores who provide exclusive deals for debit/credit card holders of your bank.
3. Use Comparison Websites – There are many websites in the market, which provide a basic level price comparison of the product you intend to buy. Using such websites like Junglee.com , you can pick the store which is offering the required product at cheapest costs. It might take a little longer time, but in the end, you will save lots of money. Once you find out the website, which is offering the item at cheapest cost, go back to Flipit, find the coupon code for that store and save even more!
4. Availing Cashback/Points redeeming schemes – Many websites in India offer instant cashback on certain products. It will lower the cost of the product and ultimately you end up in saving lots of money. Some services like Payback require you to register with them, they track your purchases everywhere by providing you a Payback account number that you can enter during checkout or swipe a Payback card while making purchases in the offline stores. Your every purchase earn you some points, which you can redeem at various online shopping portals such as eBay. You can also buy some products directly from Payback portal.
5. Smart Shopping – It cannot be stressed upon enough. Most shoppers end up purchasing the products they want at much higher cost if they are not smart and they bought the product at wrong time. Certain products like mobile phones and electronics lose value very fast because newer products arrive in market every day. Their cost is highest when they are just launched; slowly they reach a saturation point. The idea of smart shopping is to buy when the price is lowest. If one has some experience in online shopping one can easily guess the behaviour of cost of product with time.
What Is Cryptocurrency And Why Is It So Volatile?
Cryptocurrency has recently made headlines, exploding into the spotlight with the same relentless intensity that characterises its value and demand.
However, as they become more mainstream, they may become confusing. It's money, but there's no bank looking after it or controlling it; it's an asset, but it's not backed up by anything tangible.
Here is a brief overview of cryptocurrency and a quick look at why it is so volatile.
What is it?
In a nutshell, it is the digital equivalent of money. It is designed to function in almost the same way: users have wallets in which they can keep money, which is used to symbolize value in the economy and can be exchanged for goods or services with others.
Cryptocurrency, like much money in today's traditional banking system, does not exist tangibly; instead, it is recorded as figures in a database that signify how much of a particular cryptocurrency a certain person has.
However, in contrast to today's banking system, is decentralised. Rather, it is recorded in the blockchain, which is distributed throughout the network and records transactions in a transparent and verifiable manner that belongs to no one individual or organization in particular.
The first of them was bitcoin, which was developed in 2009 by an unknown individual known only as Satoshi Nakamoto. Since then, a slew of new cryptocurrencies has sprouted up. These include ethereum and dogecoin. It is interesting to look into the background of these, and ask yourself who created Dogecoin?
Why are there so many?
A cryptocurrency can hypothetically be created by anyone; at their foundation, they are just software, therefore anyone can create one. There is no authoritative body that decides what is and isn't a cryptocurrency.
As a result, dozens of new cryptocurrencies, known as altcoins, have emerged. Some of them have grown into consistent performers, leading to predictions that they could turn bitcoin on its head and become the most valuable cryptocurrency.
Some of these altcoins aim to provide innovative answers to problems that exist with large players like bitcoin, such as making transactions easier or more efficient. Others, such as Dogecoin, which originated as a joke, are developed solely as alternatives.
They sometimes move in sync, with the entire cryptocurrency market fluctuating in response to certain pieces of news. However, traders occasionally switch between currencies, as when the price of dogecoin soared thanks to the support of figures such as Elon Musk.
What makes cryptocurrency so volatile?
Unlike traditional financial assets like stocks and commodities, cryptocurrencies are not valued in terms of what they can be used for; in theory, they are a bet on a company's future profits or the usefulness of a given material, but cryptocurrencies are primarily a bet on how interested people are in them.
Cryptocurrencies, unlike traditional fiat currencies, do not have a central bank entrusted with employing monetary policy to keep their value from fluctuating too much.
As a result, the value of cryptocurrencies varies dramatically, frequently and without warning, and without always being linked to evident world events.
Marketing Practices That Could Remain After The Pandemic
The global pandemic has changed businesses in many ways, and marketing, in particular, has seen a lot of developments over the last year. Businesses have had to adapt to digital practices quickly, which has changed the way they promote their activities. It has also changed consumer behavior, meaning tactics need to change to reach them in new and innovative ways.
While businesses are beginning to revert to some sort of normality, there are some practices that will continue even after the pandemic is over. Discover some of the marketing practices that could be here to stay.
A greater focus on retaining existing customers
The global pandemic has had a huge impact on people's shopping behaviors. It's no secret that brand loyalty has been in decline over the years, largely due to consumers' preference for convenience – especially in the digital age. But the pandemic has made this even more apparent, with many consumers switching brands as a result of supply chain issues and more. For businesses, putting your energy into retaining your existing customers could yield better results than trying to win over existing customers.
The resurgence of the QR code
Just over a year ago, people might have turned their nose up at the idea of using a QR code in a marketing campaign. Did people know what they were? What did they achieve? Well, thanks to the pandemic, QR codes have had something of a resurgence. Exploring QR code APIs can help you work out how they can be used in your marketing campaigns effectively to bring the best results for your business. QR codes are capable of generating some great data, helping you measure the effectiveness of your marketing campaigns.
Localized marketing
The pandemic has shifted a lot of people away from busy cities and urban areas, and into more rural neighborhoods. This has meant that businesses are having to change their marketing tactics to provide a more personalized, local feel that better aligns with changing behaviors. People are choosing to shop locally and choose local-based businesses, and you'll need to think carefully about how you can form better engagement with those audiences to help spread the word about your business.
Bigger budgets for social media advertising
With people spending more time at home, they are more active online watching box sets, shopping, gaming and more. This means they might be less likely to see more traditional advertising such as billboards and subway signs. Social media advertising can help you reach those audiences, providing a great ROI compared to other forms of advertising. Ensuring social media is a firm part of your marketing strategy can help you reach your audiences where they are, and even save money compared to your spend on more traditional advertising.
Change is nothing new for the marketing world. The pandemic has seen some major developments, and as we enter the 'new normal,' it will be interesting to see what comes next. Staying up to date on current marketing trends can keep your business relevant, and help secure the best results for your business – no matter what's happening in the rest of the world.
Subsale Market an Attractive Prospect for Investors in Malaysia
Investors were responsible for 81.1 per cent of residential property purchases in the Klang Valley area last year.
Many of these investors were putting their money into subsale properties, and according to Joe Jock Thor from MyProperty MD, the market for subsale residential properties has experienced steady growth in the past few years, but it has seen a real upswing in recent months due to the effects of the Covid-19 pandemic, which has put the focus squarely on the secondary real estate market as real estate owners move to maintain their financial liquidity by lowering prices. This means investors are free to swoop in and pick up assets at a fraction of the cost, increasing their potential value once they go back on the market.
Another key factor in the spike is the Real Property Gains Tax exemption, which has prompted some investors to turn their assets into cash and, by doing so, make a healthy profit.
In fact, subsale properties were so popular that listings increased by more than twenty percent between 2019 and 2021, although this will only go a small way to making up for 2020's economic downturn and the resulting fall of 47.2 percent in the number of residential property sales in the Klang Valley.
If you would like to know more about the subsale market in Malaysia, you can find a lot of good information about subsale real estate, and how to buy it, by checking out this infographic on the Malaysian real estate market: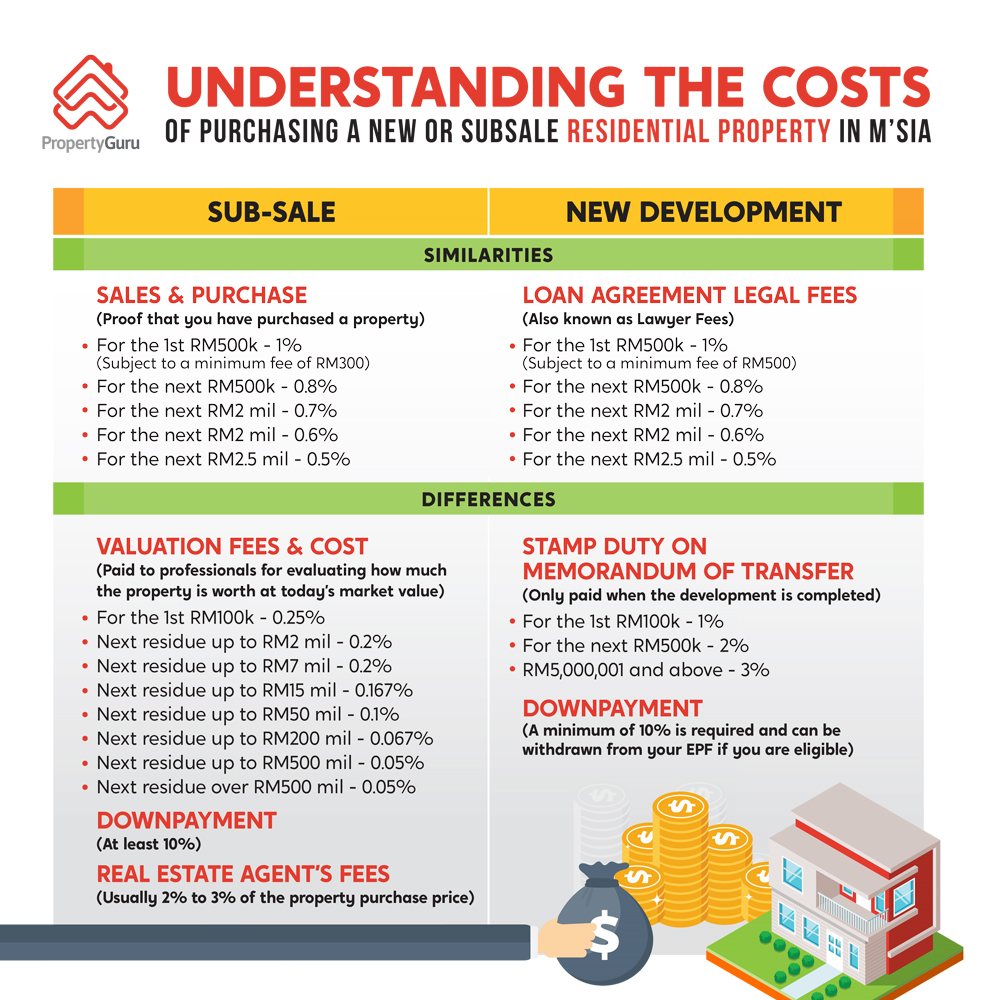 Infographic designed by:
PropertyGuru Largest Property Portal in Malaysia