TargetingMantra: Helping Customers Shop Better With Personalization Solutions
When was the last time you visited a shopping store to buy something matching your taste? You must have thought such an experience would not have been possible at an online store. When you are at a retail store buying clothes, store representative shows you all the great collections one by one. Within a minute from your expressions, he/she understands your taste and narrows down his/her search to find for you something that suits your needs best. With advices and compliments, the store representative encourages you to make the purchase creating a win-win situation.
This was not possible on online stores until now. Today personalization is very new in e-commerce. Amazon was one of the initial pioneers in this domain, while a majority of other ecommerce businesses are still following suit. Indian origin expert, Saurabh Nangia (alumnus of UIUC & IIT-Guwahati) had steered a similar project to take personalization to new levels while he was at Amazon.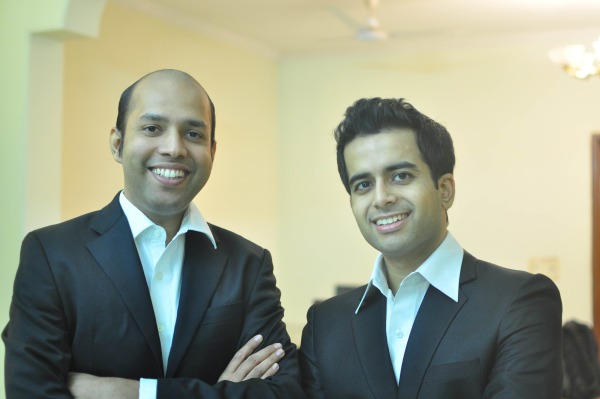 Saurabh's intense hard work and intelligently made calculations came right in line with expectations as his new tool brought an appreciable difference to the whole user experience and conversion rate.  At the success of developing an excellent personalization solution, Saurabh had understood that the tool could provide ample business opportunities, especially in emerging markets. He convinced his friend Rahul Singh to embark on a journey of adventure and entrepreneurship with him.
This cloud based personalization platform creates real time suggestions based on customer's browsing and shopping habits along with the insights from the profiles of similar users and comparable taste. These suggestions help customers find similar items from the catalogue, new releases, what others are buying and popular combinations of products.
Today TargetingMantra is providing a number of business solutions to various e-commerce websites that includes Similarities, Recommendation Widgets and Targeting Tools, everything from personalization to customization to analytics.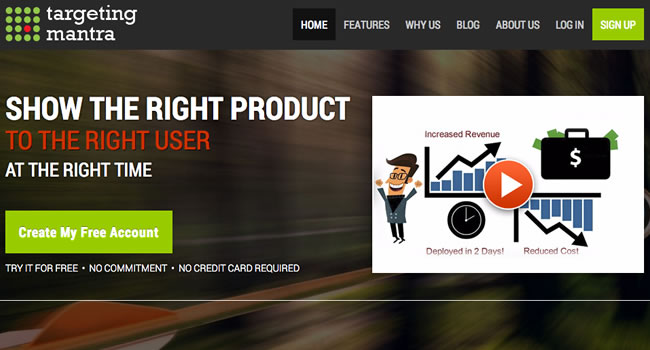 1. What inspired you to come up with this idea?
With the rate at which amount of data available online was multiplying, I identified the need for something that could curate this data for users. Currently, there is over 3ZB (1021 bytes) data created online every year. Therefore a good personalization and targeting solution is needed for any online business that wants to deliver a good customer experience. The amount of resources (both time and money) that went into building an in-house world-class personalization solution were not feasible for SMEs. This gap is further accentuated by the dearth of experts in the field of big data and personalization, across the world. There was a business opportunity out here. These companies were spending a lot on customer acquisition, but were unable to retain customers, increase customer loyalty and increase conversion rates. Therefore, it was clear that only if they could get a personalization service at a reasonable price they will gladly use the service. We therefore came up with a SaaS based personalization solution.
In this process, I also realized that people do not have access to important metrics about their business for making strategic decisions. As we were already profiling users, we therefore also started providing detailed insightful analytics to businesses.
2. How did you transform your idea into a startup venture? What were the things in your checklist before working on it full time?
There are three important things that one must look into before working on any idea full time. First is validating the feasibility of your idea. Having worked in machine learning for over 5 years, I knew that it is possible to use machine learning to personalize the web. SaaS services had already started becoming popular and people were receptive to third-party solutions. Second was validating the market. Quite often, either the market is not ready for the product or does not need it at all. We actually talked to 3-4 major e-commerce players in India and asked them if they would be interested in such a service if offered it to them. All of them came back to us with a positive response confirming that they were more than eager to try it out. The third and most important thing is to check if you are ready for the start-up.  It is a tough journey, with statistics telling you more startups fail than succeed. There is no right age, time or method to know this but the day you feel ready to quit your comfortable job for your passion is the day you are ready.
3. How did you all meet and form TargetingMantra team?
Rahul and I know each other for over 7 years now, as we are family friends. We used to discuss a lot of ideas earlier but it was only with TargetingMantra and the idea behind it that convinced us to take the leap of faith and quit our jobs to pursue our venture. Our other early team members are all passionate individuals whom we met at different start-up events or online on similar forums and who shared their interest in our idea.
4. How easy or difficult is it to start a business in India?
To start a business in India is definitely no cakewalk. However it has improved a lot over the last five years. Legal, taxation and other process are not streamlined. For any manufacturing unit or a hospitality sector outlet depending on the type, dozens of licenses are required from different agencies. On the other hand, building software companies is slightly easier in India. Talent is cheaper and living expenses are lower compared to US. It is easier to validate product market fit in India market and then grow internationally after that. Receiving funding and credit is still difficult at early stages for entrepreneurs, as people and institutions are quite risk averse. Compared to US, it is also difficult to find early adopters amongst potential customers.
5. What all market industries and regions does your product target? 
Being a 'Software as a Service' (SaaS) product we can actually target any region including North America, Africa, Europe or Asia Pacific. We have started offering it in India as it was the home market but within the next 6 months we plan to integrate with international companies as well.
Regarding industries, personalization is required by all websites including e-commerce, media, job portals, dating etc. As content grows it will become increasingly important to curate it better for users. We have started with e-commerce but plan to extend our services to other industries soon.
6. What do you think of the future of online shopping industry in India where until few years ago people hesitated using their credit/debit cards online.
While the number of customers purchasing online is still a small fraction of the Indian population and it will take 3-4 years to reach a level that is comparable to the developed world, a few drivers will help it take there. Mobile commerce is the main driver and is growing so rapidly that many e-commerce players believe in a year or so, they will be selling more from mobile than other devices. With smart phones becoming as cheap as $100 it has suddenly opened doors for e-commerce firms which were struggling to reach the masses. Now they are actually trying to get the 'fortune at the bottom of the pyramid'. Cash on delivery is another enabler which has tremendously increased the penetration to masses who do not necessarily believe in paying through cards online.  Low credit/ debit card usage is no more the major hurdle for the sector. However I must add that offline and un-organized retail are also not going to go away in the near future as it happened in other countries.  So in the future, as share of online shopping increases so will the size of the total retail pie keeping the all channels alive and kicking.
7. According to you where does online shopping industry in India stand compared to that in the developed world?
It is one of the fastest growing industries globally right now. Almost all products are available online now right from apparel, jewellery, health products to midnight meals and car accessories.  The model is evolving more on the lines of China with more focus on the market place model unlike the US where each brand has its own online presence. The logistics infrastructure is continuously improving with few companies now offering same day delivery in select cities. Companies are trying to learn the global best practices.
However with heavy discounting and high customer acquisition costs hardly any company is making money. This is bleeding the sector overall and multiple sites are shutting down every month. However, opportunity lies in abundance in the Indian market and the time to take the plunge is now.
Find more about TargetingMantra. Also follow them for latest developments on your favourite social media network.
Turn Your Passion into a Career: How to Make Money Doing What You Love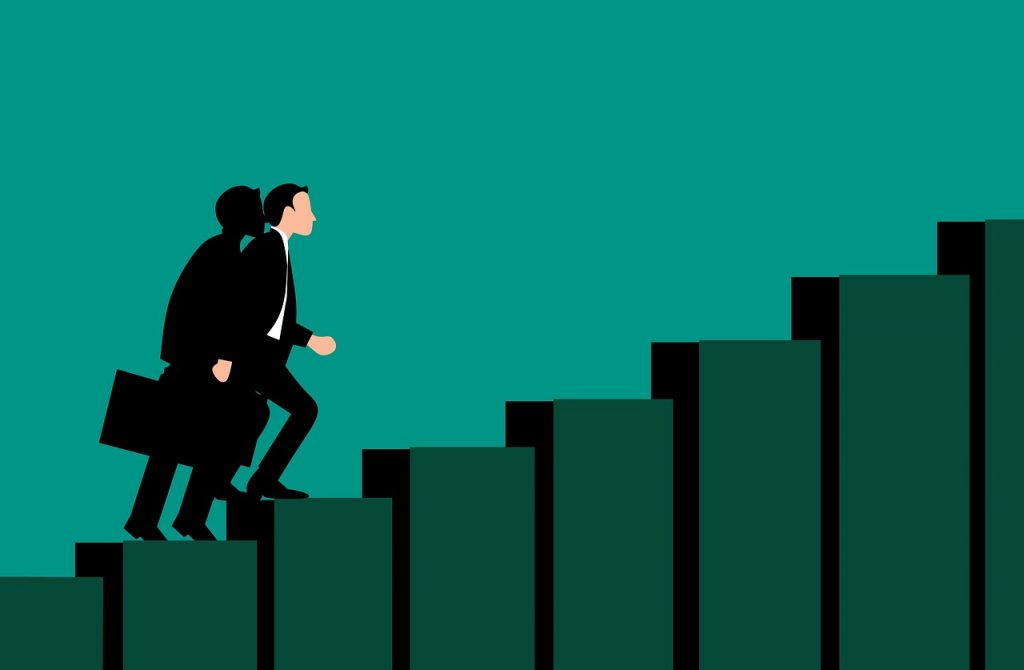 Many dreams of turning their hobby, passion, or creative outlet into a career. It's a beautiful idea, but it can take time to figure out where to start. Here's a guide on successfully turning your hobby into a career. 
Do Your Research
Before you turn your hobby into a business, please research and find out what the industry looks like, your potential customers and their needs. Next, consider your strengths, skills, and knowledge and decide how to use them in this new venture. Finally, consider what makes you unique in the industry and how you can market yourself.
Take A Strong Career Test
A Strong Career Test can help you identify your ideal job and the type of environment you would flourish in. In addition, knowing this information can give you an idea of what kind of business to start and whether it's something you'd be passionate about.
Think About Finances and Legalities
Once you have an idea of what you want to do, consider the financial aspect – are there any costs associated with getting started? What sort of budget will you need? Will there be any tax implications? It's also essential to think about the legal side of things – if necessary, consult with a lawyer specializing in business law so that you understand all the regulations associated with starting up and protecting your intellectual property rights.
Create a Business Plan
Now that you have researched and considered the legalities and finances involved, create a business plan that outlines all this information. Make sure it includes short-term and long-term objectives to keep track of your progress over time. Be realistic when setting targets for yourself – don't aim too high at first because this could set you up for failure if it doesn't pan out. Also, consider whether or not there is potential for growth or expansion once your business gets off the ground. This may include marketing strategies such as social media campaigns or investing in advertising materials such as brochures or flyers.
Start Networking
Networking is essential when launching any new business; it's about building relationships with people who may be interested in your offer. Start by reaching out to family, friends, and acquaintances who may already know about your business or service offering; they may even be willing to share it with others! Additionally, join online groups related to your area of expertise – these are great places for exchanging ideas with like-minded people and potentially finding potential customers/collaborators/mentors/partners, etc. Finally, attend events such as trade shows or conferences where relevant topics are discussed – these are ideal opportunities for making connections within the industry that could prove beneficial down the line!
Turning your hobby into a career is no small task, but it can be approached thoughtfully and strategically! Please research the industry thoroughly before beginning to understand its nuances; familiarize yourself with the legalities of running a business; create a viable yet ambitious business plan; network extensively (both online & offline). And never give up! With dedication & hard work, anything is possible.
5 Things To Keep In Mind When Changing Careers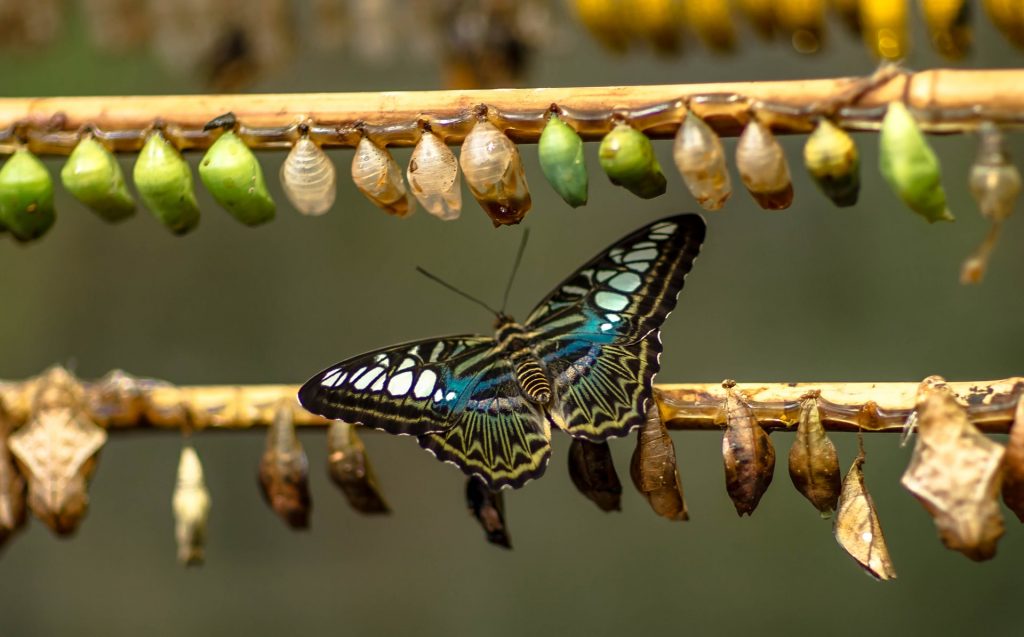 Your dream job may be much closer than you think – and it might not even be in your current industry.
Many people aren't aware that hundreds of jobs out there offer a higher salary than their own and career growth and stability. These jobs often require skills not used in their routine work but can provide an easier transition to a new job within the same company or industry and more career opportunities down the line.
To get started on finding the right opportunity for you,
Here are some things to keep in mind:
Figure Out What Exactly You Want From Your Career
Sometimes, figuring out what we want from our lives is the most difficult part of getting somewhere. So What do you want? If you could have any kind of job in the world, what would it be?
If you don't know where to start, think about the things that make you happy. Do you enjoy helping people? Do you like making money? Do you like staying at home and never going outside of your house? All of these are possible career paths, but knowing what's right for you will go a long way towards helping you choose the best opportunities from which to choose.
Don't Overlook Smaller Opportunities
Don't limit yourself by thinking that only Google and Facebook can give you fulfilling work! There are many jobs out there suited to almost every kind of person, so if those big names don't sound appealing to you, keep searching until something does.
Make Sure the Opportunity Fits Your Lifestyle
Do you have anything keeping you from pursuing the career path of your dreams? Maybe you have children or elderly parents who rely on you. Maybe you have bills to pay online casino real money every month. Don't let any limitations keep your dreams from being realized!
If you can't give up everything in your life to pursue a new career, don't worry! There are many jobs that allow you to work from home or just work part-time while still earning a steady income, make sure to learn more about these opportunities. They might not pay as well as traditional jobs, but they will reduce some of your living expenses and provide you with more time to do what's important to you.
Don't Limit Yourself By Your Current Skill Set
A lot of people think that if they aren't proficient at using Microsoft Excel, they can't get a data science job. This isn't true at all! In fact, the majority of data science jobs don't require you to be fluent in Excel! So even if you're not good at using it now, don't think that it will stop you from getting a new and better job.
Ask Your Friends for Help
If you're unsure about what career path might be right for you, ask your friends for help. If they know of something that sounds interesting or fulfilling to them, there's a good chance they'll know someone who works in that field or can put you forward for an interview with one of their contacts. But beware: asking your coworkers is probably the number-one way to find out how boring your current job really is!
Good luck!
How To Make Your Small Business Global
So, your small business is doing well, you've conquered your market and everything is running along smoothly. So what's next? Do you cruise along just enjoying your success? Or do you push yourself and your business to see how far you can take it? That's right, keep going and see where you can take it. Thanks to this increasingly connected world you can grow your small business and make it global, but how?
Do your homework
DOn't do anything without doing proper research first. Find out what the market is like in other countries, if there is a need or demand for your product. Are there competitors there? What are they doing and how are they doing it differently to you? Look at everything from the cost efficiency, to the legal regulations and know everything there is to know.
Know the culture
You need to be aware of other cultures and how they may perceive your business and your content. You also need to know how to do business in other countries and what cultural practices are. For example, is shaking hands okay, or is there another way of greeting people? Is it okay to hand out business cards? Find out all of these small details because they could make or break your opportunity to do business in a particular country.
Make friends with local experts
It's a good idea to get to know as many local experts as you can and get as much advice from them as possible. You should also listen to what they say and not think you know better. Accept their help and let them tell you about best practices and how things like social media work in that country
Learn the language
Don't let language barriers slow down your success. Put in the effort and learn the language for the country you wish to do business in. Not only does it make things easier for you but it shows that you respect the country and want to be a part of it.
Visit each country
If you're thinking of going into more than one country or you're undecided where to start, then you should visit each country. Even though everything can be done online now, it doesn't mean it has to be and you can make better decisions when you're in the country. It might be easier when it comes to how to choose China freight forwarder online but if you're choosing material for your manufacturing process and a person who you're going to be working closely with, then it's better to be in the country. Once you know how things work and have established a few things, then it will be easier to do the rest online. 
Although it can be a lot of hard work to take your company global, you can do it and many others have done it before you so take their advice. There are so many tools and strategies now available to help you expand your business globally, so make the most of them. Just remember to take it slowly, take it one country at a time, and don't set your heart on world domination just yet.