In New Zealand, Sky chief executive John Fellet recently hit out at the newspaper industry for using Sky's sports content in their reporting. He argued that it was unfair of them to upload these clips and add advertising to them. However, this usage falls under fair use and so isn't deemed a breach of copyright. Although it might be legally fair, is the addition of advertising morally fair?
Fair Use of News Coverage
Copyright laws usually have a clause about fair use. This allows for people to use content, such as text, images or video footage, for news reporting, comment and even parody. Since news outlets and media organizations use various methods of advertising, it could be difficult for them to avoid profiting from using content under fair usage rules.
Newspapers and Sites Relying on Advertising
Advertising has always been an important source of revenue for newspapers and media organizations. Those that don't rely on advertising need funds from elsewhere, such as the BBC's TV license or PBS donations. As newspapers have moved online, advertising has become even more important for their survival. Some papers charge a subscription fee to access their online articles, but the majority make money from advertising alone.
Media Advertising in the Past
The media and the press have used advertising to support them for a long time. Even the first newspapers needed adverts to help fund them. Advertorials, articles intended to promote a product, have also been common. It would be very hard for newspapers to avoid using advertising whenever they use content from elsewhere.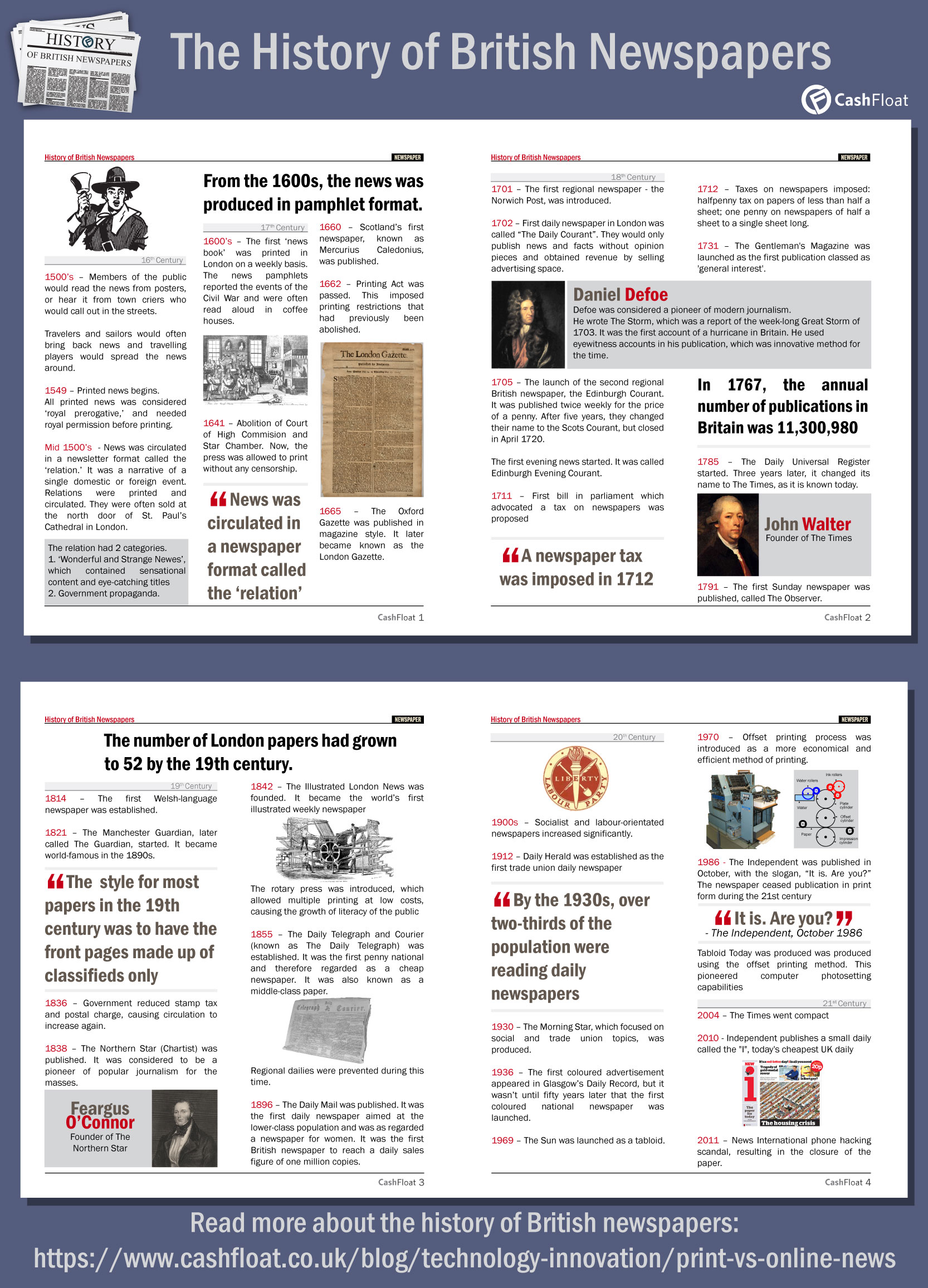 Infographic Design By Cashfloat.co.uk
Do I Need A Personal Injury Lawyer To Sue For Pain And Suffering In A Car Accident?
There are very specific damages that you can sue for when it comes to a car accident. Most accident claims are handled through negotiation between insurance companies before they reach the trial phase. If you are involved in a minor car accident, you might be able to recover your damages without the need to hire a Baltimore car accident attorney. However, there are limitations. If you are involved in a more serious accident, it might behove you to hire an attorney to make sure that you are recovering for all you are entitled to.
Pain and suffering
When it comes to car accidents, pain and suffering are defined as any physical or mental distress that you encountered as a consequence of the accident. Pain and suffering damages are determined by the amount of suffering that a person has to endure, and thus are subjective. In most states, pain and suffering damages fall under "noneconomic damages" or "general damages." This refers to any damages that are intangible and instances where a dollar amount is difficult to discern. Economic damages are those damages that are straightforward, like medical bills and loss of wages. Pain and suffering awards aren't as easy to put a price on.
When you should escalate the claim and hire an attorney
It is always a good idea to consult an attorney if you are in a car accident. Sometimes injuries are immediately apparent – like broken bones –  but there are also times when the symptoms of an injury won't surface until well into the future. To make sure that you are fairly compensated for your injuries and pain and suffering, having someone evaluate your case is always an excellent idea. Your choice of whether or not to hire an attorney should be based on:
The seriousness of your injury
If you were in a minor accident, an insurance company will typically be able to offer you a fair settlement to cover your medical expenses and any property damage. If you are in a more serious accident, however, there may be consequences that might not show right away, or damages that an insurance company might not want to pay. If you have suffered severe pain, or your injury is long-term, it is always a good idea to have an attorney to ensure that your medical costs, and any other monetary damages for the future, will be covered.
How much evidence you have
If you don't have a good record of your pain and suffering, or the facts revolving around the case (such as eyewitness testimony) aren't clear, then it is a good idea to have an attorney cover you. The insurance carrier will not have your best interests in mind. They will seek to minimize their costs, which means denying you the recovery you deserve if you don't have sufficient evidence to prove your case superficially.
At fault
If there is a question about who is at fault in a car accident, then it is always a good idea to get an attorney involved. There are times when determining who is at fault in an accident might not be as simple as you think. Sometimes drivers will counter sue and allege that they aren't at fault. You never want to leave yourself vulnerable.
If you want to recover for your pain and suffering, it is always imperative to get an attorney involved. Since pain and suffering need to be calculated and are subjective rather than objective, you will need someone to help you prove your case and to get the amount you deserve. Some lawyers will use the "multiplier" method. This calculates pain and suffering by using the amount of medical expenses you have. Others may use different values to determine a reasonable price. Again, since the insurance carrier isn't on your side, you will want to have someone who is.
If you are in an auto accident, there are times when you can settle without having representation. But before you sign anything, it is always an excellent idea to consult a lawyer who specializes in auto accidents to make sure that you aren't left vulnerable and that you receive fair compensation for your damages.
Caught in the Crosswalk: Pedestrian Accidents and What To Do
When an accident happens, you're under a lot of stress, pressure and urgency all at the same time. This can make it really difficult to think clearly, yet most of the time we can kind of remember the main points. Get the other drivers details, contact the police and so on. What happens when there is no other driver or vehicle though? What if the collision was with a pedestrian?
With an estimated 70,000+ pedestrian injuries occurring in the United States alone each year, it's a real occurrence for many people already. Most of us don't have any real idea on what to do if we hit a pedestrian. Here's some advice with that in mind.
The Pedestrian Comes First
Start off by immediately checking on the pedestrian. Ensure that the person is safe and call for medical attention if needed. If you have first aid skills, use them only when necessary. It's best to leave as much as possible to the professionals, especially so there's no question about whether your actions might have made the situation worse or been unwarranted.
If required, you should also get any injured personnel out of the road. Also make sure everybody is as safe and as comfortable as possible.
Make Your Calls
Contact an ambulance if required and also call the police. You are required to file an accident report with them in case of a vehicle-pedestrian collision. The police will be able to help with the rest of the process and can have a calming presence. They can also gather witness statements and co-ordinate whatever else may be needed.
This is also a good time to alert your legal representatives. If you don't already have an accident specialist in mind, try something like Accident and Injury Law Group's legal services. Having experienced experts on your side can make a big difference in any potential cases and with the process before that.
You will also need to contact your insurer and inform them of the situation. The insurance company may also be able to offer you advice on how to proceed. Keep in mind that if the insurer recommends hiring specific people, the final decision still remains with you.
Detail Exchanges
If the collision was minor and the pedestrian is coherent, exchange details. Remember to keep it brief, you may be talking to somebody who is very disoriented. If the pedestrian is not coherent or conscious, then you should usually leave your details with the police. They will contact you later on with further information and act as a liaison if required.
Remember to be Careful What You Say & Document What You Can
Remember even the DMV recommends not implying guilt after an accident. The usual accident rules apply, so don't apologize for anything in case it's misinterpreted. Also try to take pictures of anything that might be relevant, and make detailed notes on the specifics of the accident whilst your memory is fresh.
Vintage clothes are trendy, it's an undeniable fact. They are at least 20 years old, and they arouse the interest of fashion lovers in an a truly spectacular way. There are different kinds of vintage clothing. On one hand, there are pieces which were made around 20 years ago. And on the other hand, there are new pieces which are inspired by clothes from past times and have a retro look. The Vintage Collection is a great example of how vintage clothing remains as a trend. Pieces that look antique but that are actually new and appealing.
One of the hits of vintage clothing is that many wardrobes from the past have been recovered. Pieces found in cellars and storerooms of thousands of houses which have been worn only once and now seem to be forgotten. All of these pieces can be worn again as if we were talking about brand-new clothing. It's a new life for old clothes that make us create amazing outfits nowadays.
Recovering old pieces
Recovering old pieces to get that vintage look as a trend, and not only because of what we previously said. It allows us bring back forgotten pieces, but it also enables us to check out our mother's closet, and even our grandma's in order to revive breathtaking dresses.
In other words, by taking a look at those wardrobes which were left behind some time ago, we are going to be able to get ideal clothing to wear at different times. These wardrobes store not only summer, but winter clothing as well, so we are certainly going to find something vintage and stunning for any time of the year.
Get pieces at wonderful prices
One of the biggest advantages, which is key of getting a vintage look, is that vintage clothing can also be found at competitive prices. As they are mostly pieces that have been already worn we can find them at amazing prices. Despite being second-hand clothing, we need to keep in mind that these clothes pass an exhaustive inspection process to guarantee each piece has the optimum conditions to be worn.
Additionally, we have to consider that vintage clothes are also part of new collections with new pieces based on designs and looks of other times. But we are not only talking only about new pieces, we are also talking about old pieces from the past that have never been worn and can be worn for the first time as if they were brand new. These new second-hand pieces are found in wardrobes, and in many cases they are taken to specialized stores that collect brand-new real-vintage pieces because there are many people in this world who buy clothes and haven't worn them not even once.